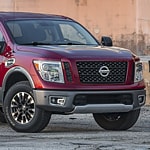 The Nissan Titan has become a major player in pickup truck production and for good general reasons. This full-size pickup is also very popular with a wide demographic of people. Consumers can choose from the S and SV trims. There's also seating for at least five people in its cabin.
The Nissan Titan takes advanced technology to another level. This pickup truck starts off by coming equipped with a command center, which is the brains of the operation. Bluetooth has been embedded into the system for hands-free functionality. Push Button Start provides for a fast start of the ignition. The Nissan Titan even comes with a USB port as well as a 120-volt outlet for charging external devices. Consumers will also have access to Door-to-Door navigation, Android Auto and Apple CarPlay integration.
Treat yourself to a pre-owned Nissan vehicle by coming in for a first-hand tour. Serious buyers can expect a test drive.