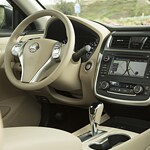 The Nissan Altima's interior is just as captivating as the exterior is. It is designed to keep you cozy while you are traveling. The heated steering wheel will help your hands stay warm. The dual zone automatic temperature control will allow the driver and passenger to choose what they want the temperature to be. All of the controls are in the same place.
There is nothing like enjoying good tunes as you ride down the road. This vehicle has nine speakers, so the sound will emit from the front row to the back row. Additionally, the design of the interior is nice. The wood-tone trim and chrome matte finish gives the vehicle a premium look.
There is plenty of space in the trunk so that you will be able to put all of your belongings in it. You will be ready for a big party or a long weekend out of time.