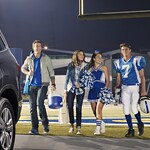 If you want to get a new car for your young teen driver, then there are a few things that you should think about. One of them is safety, of course.
Modern cars come with quite a lot of different safety features, including automation that can help steer them away from obstacles and dangerous situations and keep them in their lane. It is a very good idea to find a model of car that comes with a lot of these safety features. All-wheel drive for bad weather conditions might be a good choice too, if that is a concern in your area.
Another feature worth a look is the fuel efficiency. As a new driver, your teen won't be thinking too much about gas usage and cost, so an efficient engine can help keep the spending on gas under control.