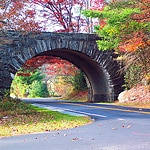 Each year, scores of visitors head to New England to catch a glimpse of the world-famous changing leaves. Every year starting in autumn, you can spot magnificent displays of red, yellow, golden, and orange leaves in the region's forest. To make your trip smooth and enjoyable, we have some tips to follow.

Use Your Map

If your vehicle has navigation or comes with smartphone pairing capabilities, put it to use. You can plug your phone it or get directions to help with route planning. A map can also offer suggestions of places to stay or eat along the way.

Go Mid-Week

Traveling during the middle of the week is an optimal way to beat the majority of leaf-peeping traffic, as most people travel on the weekend.

Start the Day Early

Starting your day's journey earlier in the morning means you can catch great color displays with the morning lighting. You'll also beat the crowds to key vistas and overlook areas.